CommonCentsMom.com is advertiser-supported: we may earn compensation from the products and offers mentioned in this article. However, any expressed opinions are our own and aren't influenced by compensation. The contents of the CommonCentsMom.com website, such as text, graphics, images, and other material contained on this site ("Content") are for informational purposes only. The Content is not intended to be a substitute for professional financial or legal advice. Always seek the advice of your Financial Advisor, CPA and Lawyer with any questions you may have regarding your situation. Never disregard professional advice or delay in seeking it because of something you have read on this website!
Philately, or post stamp collecting, has been a thing ever since post stamps were invented. It may not seem exciting if you aren't into it yourself, but its enthusiasts are often extremely dedicated to it. In fact, some philatelists are willing to spend hundreds of thousands or even millions of dollars on a single stamp. Curious about the most valuable rare stamps in the world? Continue reading below…
#1 British Guiana 1c Magenta, 1856
Value: $9,480,000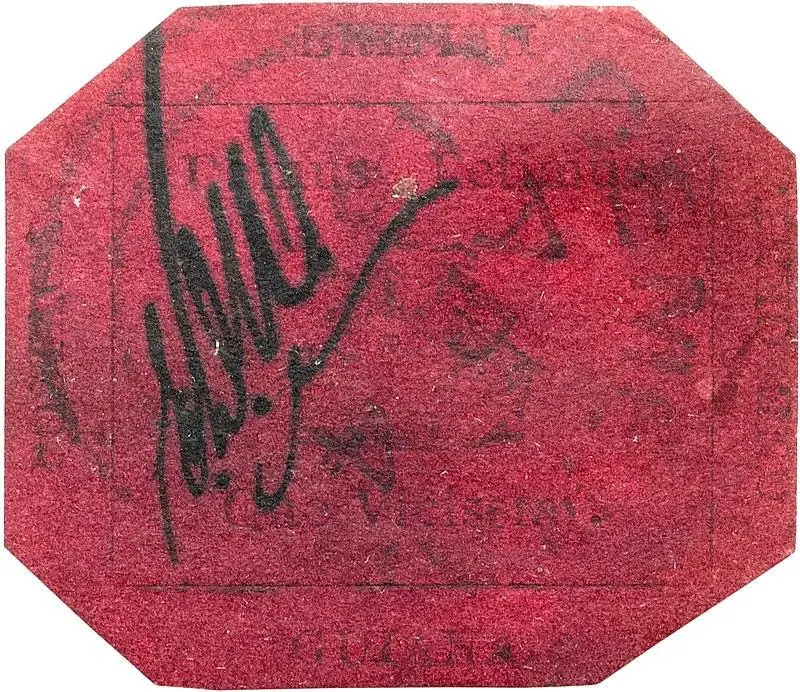 British Guiana is a South American country that is now known as Guyana after having gained its independence in 1966. At the time, it was a colony of Great Britain. It is the homeland of the most valuable rare stamp in the world, British Guiana 1c Magenta 1856. This one-cent stamp was a part of a three-stamp series. It was meant to be used by a local newsletter. Meanwhile, the other two stamps, a 4c magenta and a 4c blue, were meant for regular correspondence. However, the shipment of these stamps did not arrive in time, so the local postmaster, E.T.E. Dalton, authorized the printing of an emergency issue.
These stamps were soon discontinued and it is now thought that only one one-cent Magenta had survived. It was found in 1873 in Guyana by a 12-year-old Scottish schoolboy named Louis Vernon Vaughan, who discovered it amongst his uncle's letters. Not knowing its value, the boy sold it to a local collector for mere six shillings. Since then, the stamp has changed hands quite a few times, continuously going up in value.
In 2014, it was sold to its current owner, a shoe designer Stuart Weitzman, for $9,480,000 at Sotheby's New York auction.
#2 Treskilling Yellow Stamp, 1855
Value: $2,600,000
Treskilling Yellow is the rarest Swedish postage stamp. It was issued in 1855, which actually makes it one of the first stamps ever released in Sweden. The three-skilling stamp was supposed to be blue-green, but due to some mishap at the printing house it came out yellow. Amazingly, this seems to have gone unnoticed at the time.
However, Swedish currency changed only three years later, so the stamp became invalid. In 1886, a young philatelist named Georg Wilhelm Backman was going through the stuff in his grandmother's attic and found the only known Treeskilling Yellow stamp in existence. He then sold it to a Stockholm dealer Heinrich Lichtenstein for seven kronor.
Since then, it continued to change hands until it was acquired by a Swedish nobleman and politician Count Gustaf Douglas in 2013. The exact amount of money he paid to acquire this stamp was not disclosed, but it is believed to be around $2,600,000.
Interestingly, a man named Baron Jean-Claude Pierre Ferdinand Gunther Andre claimed that he had nine Treskilling Yellow stamps, which he had allegedly left undisturbed in a safe box at a bank between 1986 and 2002. According to him, when he went to retrieve them, he found the lock removed and the stamps gone. He brought a lawsuit against the bank, Clydesdale Bank PLC, but the judge ruled the Baron and his wife to be unreliable witnesses and dismissed the case.
The nine stamps in question haven't resurfaced anywhere since, so the Baron's claims need to be viewed with skepticism. However, if he was indeed telling the truth, then this was a very unfortunate event for him, given that these stamps would have been worth around £3.7 million.
#3 The Sicilian Error of Colour, 1859
Value: $2,600,000
Sicilian Error of Colour is considered to be one of the most valuable stamps, and perhaps the most valuable Italian stamp in particular. Originally, it was meant to be produced in yellow, but for some reason, it was also printed in blue.
There are only two known Sicilian Error of Colour stamps in existence. In 1899, they were exhibited together in the Manchester Philatelic Exposition but were separated sometime after that. It's worth noting that philatelists marvel at how well preserved these stamps are given their age.
In 2011, one of them was sold for €1,800,000, which was around $2,600,000 at the time. The buyer remains anonymous, but the auction house said that the stamp was sold to an online bidder in the United States, although they described this person as being based in France.
#4 Baden 9 Kreuzer Error, 1851
Value: $1,545,000
Baden 9 Kreuzer error is the most valuable German stamp. There are only four of them in existence as far as we know.
These stamps were issued in 1851. They were supposed to be pink, but some of them were printed in blue. It is assumed that the printer mistook the number "9" for the number "6" and ended up using the wrong printing plates. In 2008, one of these stamps was sold for $1,545,000. This is clearly an extremely expensive stamp that most stamp collectors would not even dream of owning.
#5 Inverted Jenny Stamp, 1918
Value: $1,350,000
The Inverted Jenny stamp is the most valuable American stamp, and arguably one of the rarest stamps out there. It was issued in 1918 specifically for the newly launched airmail service that cost 24 cents (in comparison, regular first-class mail cost only 3 cents). The design depicted an image of the Curtiss JN-4 airplane that was the first to depart on the Washington-Philadelphia-New York City airmail route. However, due to some error, the image was printed upside down.
There are only 100 known Inverted Jenny Stamps in existence, but they have produced plenty of controversy over the years. One of these stamps was actually sold at a Robert A. Siegel auction for no less than $1,350,000. A few of these stamps were stolen from their rightful owners only to appear on the market later with slight mutilations intended to prevent people from realizing what they were. The FBI had to get involved on several occasions, including a time when a British citizen claiming that he had inherited the stamp from his grandfather tried to sell it. All this stamp drama has garnered so much attention that Inverted Jenny stamps made it into pop culture by appearing on several TV shows, including "The Simpsons".
#6 The Whole Country Is Red Stamp, 1968
Value: $1,150,000
The Whole Country Is Red stamp is the most valuable Chinese stamp. It was issued in 1968 but was recalled within half a day when an editor at SinoMapsPress noticed that Taiwan was not shaded red and reported it to the Ministry of Industry and Information technology.
The stamp was canceled, the official reason for it being that Spratly and Paracel islands were missing from the map, meanwhile, Mongolia, Bhutan, and Myanmar were drawn incorrectly. Chinese post offices had to stop selling the stamp immediately and return all unsold copies. The designer of the stamp was even worried about being sent to jail. In 2018, one of these stamps was sold at the China Guardian auction in Bejing for $1,150,000,
#7 1c Benjamin Franklin Stamp, 1868
Value: $935,000
1c Benjamin Franklin stamp is also known as the "Z-Grill" due to the Z-variety of grill that was pressed into it. This is not to be confused with the B-Grill, which is a different type of grill entirely. Different grills were used by the US Postal Service during this age as a way to prevent fraud.
At the moment, there are only two known 1c 1868 Z-Grill stamps, one of them owned by a private individual and the other by the New York Public Library. It is considered to be one of the most valuable U.S. stamps, with some people arguing that it is the most valuable. In 1998, a Z-grill was sold for $935,000, but in 2005, it was traded for a block of four Inverted Jennys that was worth almost $3,000,000.
In case you are wondering why the person who got the Z-Grill, Bill Gross, agreed to such trade, it's because it allowed him to become the owner of the only complete collection of the 19th century United States stamps.
#8 3c George Washington Stamp, 1867
Value: $900,000
George Washington, the first American president, features prominently in the country's post stamps. However, out of all the depictions of him, the 1867 3c rose stamp is the most valuable. In 2008, one of these stamps was sold for $900,000.
#9 Red Revenue Large Figures Surcharge $1 On a 3c Stamp, 1897
Value: $878,908
Red Revenue Large Figures Surcharge $1 on a 3c stamp is the second most valuable Chinese stamp. This stamp was produced under Quing Dynasty at a time when the country switched its currency to dollars. It is believed that only 32 items were released, all of which remain in existence today. In 2014, one of them was sold at the Interasia auction for $878, 908.
#10 Olive-Colored Queen Victoria's Head Stamp, 1864
Value: $820,000
Olive-Colored Queen Victoria's Head stamp was issued in 1864. It was supposed to be brownish-grey, but due to a printing error, 52 items were produced in olive color. Today there are only 40 known items in existence. In 2012 one of them was sold for $824,648 at the Spink auction in Hong Kong.
How to Get Started With Collecting Stamps
You don't have to be a stamp collector to enjoy these rare stamps. All you need is an interest in collecting, a good eye for beauty, and a little patience.
The first thing you need to do is choose a topic that interests you. A book on stamp collecting can be helpful if you want to learn more about the subject. Or, if you already know what stamps are and are interested in the history of them, then there are plenty of online resources available to help you get started.
The next thing you need to do is decide how much money you want to spend on your collection. Some stamps can cost thousands of dollars while others may only cost $10 or less. This depends on the value of the stamp and its rarity as well as other factors such as the condition it's in.
Finally, collect all the stamps that interest you and place them into albums or folders that make it easy for you to see them at any time. Within a couple years, you'll be surprised at how big your collection has gotten!
Conclusion
Post stamps can be worth a lot of money.
So if you or your relatives have some old stamps lying around, you may want to do some research and figure out how much you could get for them. Just make sure that you do your due diligence before selling a stamp. Who knows, maybe it's worth millions.
(Visited 2,365 times, 1 visits today)