CommonCentsMom.com is advertiser-supported: we may earn compensation from the products and offers mentioned in this article. However, any expressed opinions are our own and aren't influenced by compensation. The contents of the CommonCentsMom.com website, such as text, graphics, images, and other material contained on this site ("Content") are for informational purposes only. The Content is not intended to be a substitute for professional financial or legal advice. Always seek the advice of your Financial Advisor, CPA and Lawyer with any questions you may have regarding your situation. Never disregard professional advice or delay in seeking it because of something you have read on this website!
The only thing more stressful than spending thousands of dollars on your vinyl record collection is not having anywhere to safely store them. Sure, you can spend several hundred dollars more on a shelf, but sometimes it's more fun to figure out DIY vinyl record storage solutions yourself. And, in some cases, it's also cheaper.
If you're already pretty handy with simple power tools and have a creative nature, it's not too hard to figure out how to store your vinyl records without spending an arm and a leg. Sure, you will have to plan out your project carefully and do more work yourself than simply buying a few pre-made shelves. But in the end, you will be left with a place to keep your vinyl records safe and preserved.
Regardless of how big your collection is or if you plan on expanding it any time soon, these are some of the best and most approachable DIY vinyl storage solutions out there right now. Even most beginners in woodworking can follow these vinyl record storage ideas.
The Best Way to Store Vinyl Record
While the records are of various sizes, the case for storing them all together is clear. Storing vinyl records in their cases can keep them from getting damaged and scratched. As a matter of fact, this will also help you find them much faster.
Keeping your vinyl records in the cases that they came in will keep them protected and you will be able to find them easily if you need to replace a record or if they get lost. You can also organize your vinyl records with some of these ideas.
Benefits of Using Vinyl Record Storage
To some people, record storage can be very important because they don't want to throw away their old records. When they were kids, they used to collect all the records they could get. And now that they are adults, they still have the records that they collected as kids. However, it is a waste of space because there are already too many old records in their home.
But there is another problem with keeping all these old records. There are so many of them that there is no way for them to find what exactly they want to look for at any given time. In addition, you have to go through a lot of books and albums just to find what you want and also see if it is still available or not anymore. The good thing about using vinyl record storage is that you can simply organize your collection and make it easier for you to find what you need when you need it.
You can also decide on how much space each record cabinet will take up in your home and make sure that your record albums collection will not go out of control like before when you just kept everything together in one place. Vinyl record storage will help organize your collection by putting the items that are in high demand at the top so that it will be easier for you to find them.
How to Make DIY Projects of Vinyl Record Storage Unit?
1. A Vinyl Display Table
This bad boy certainly takes a little muscle to build yourself, but once you get the hang of it, you can make multiple units to store your entire collection. The things you need for this one are plywood and hairpin legs. It might be a little hard to find the right legs, but they truly make it one of a kind.
Crosley AC1004A-NA Record Storage Crate Holds up to 75 Albums, Natural
Integrated carry handles
Holds between 40 – 75 albums
Finished in solid wood
Fire-branded with the iconic Crosley logo
Dimensions: 13.75″ (W) x 12.25″ (H) x 18″ (D)
2. Mounted Display Shelf
If you'd rather see all of your vinyl records at once, you can make this long mounted display shelf. For this, all you need is wood the length of how long you want your vinyl shelf to be. If you don't want to overlap your record, this might limit how many you can store facing out at once, but it's the perfect option if you want to see the album cover art and store your vinyls at the same time.
Sooyee Clear LP Vinyl Record Display Shelf Wall Mount
6 Pack Acrylic Album Record Holder,Display Your Daily Listening in Style Office Home. The 6 pack clear Vinyl floating shelves are bound to add an elegant touch to any living space,the attention-grabbing design will definitely turn your record collection into a Gallery in your home or office.
3. Copper Pipe Shelf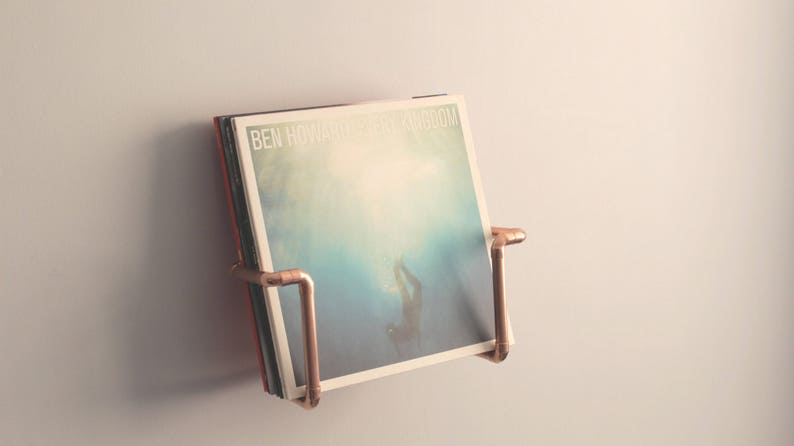 This particular shelf is available to buy on Etsy, but there's no reason to suggest you couldn't make something similar yourself. You can use copper pipe or black and then spray paint it another color to match your home decor. And since it's such a small storage solution, you can easily make more than one to hang on the same wall.
IRONCK Nightstand Side Tables Living Room
Record Player Stand with Storage Shelf Wood Look
Industrial End Table
MDF Board with Metal Frame, Brown
4. Wooden Crates
A wooden crate might seem like the more obvious solution to housing your vinyl records, but the possibilities are almost endless with this way of storing your collection. You can paint or stain the wooden crates any color and even stencil letters on them to spell out a word or keep your vinyls in alphabetical order in multiple crates.
5. Record Stand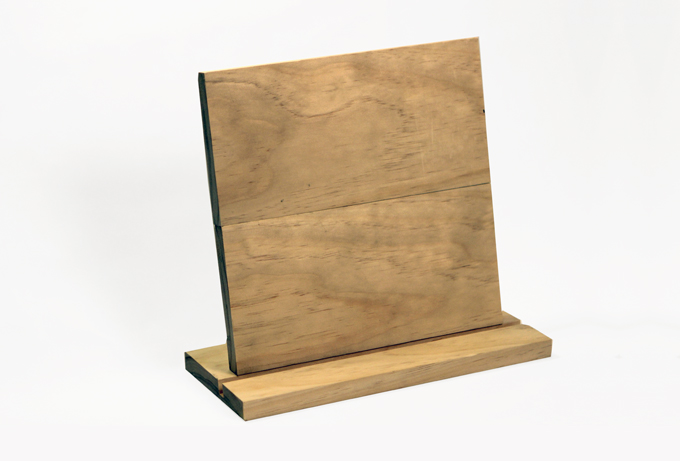 Even if you don't have a huge vinyl collection, you might still want a way to display the few records you do have. You can use your choice of wood and a table saw to put together this single record stand. Once you get the hang of it, you might even find that it's easy to make several more for your other favorite vinyls.
Novogratz Concord Turntable Stand, Single, Walnut
The medium brown woodgrain laminated particleboard and MDF offer a strong build while the mid century inspired Black metal hairpin legs add a fun, retro look.
The stand is the perfect size to place your record player and keep your albums organized in the 4 lower cubbies or keep your favorites at the Top in the large upper cubby.
6. Vinyl Cube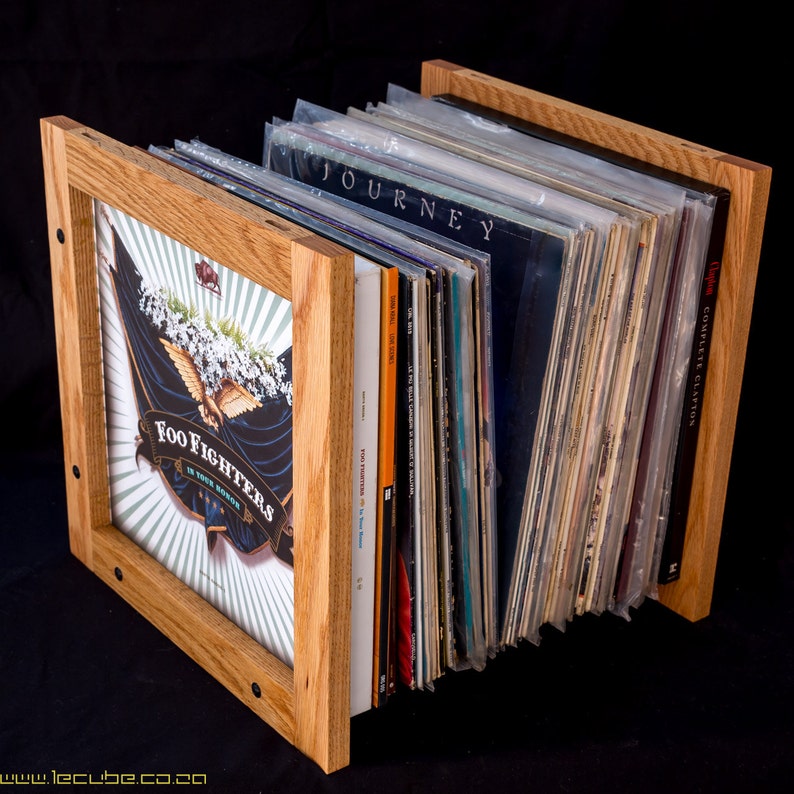 While this particular wooden cube shell can be found on Etsy, it also seems like a relatively easy to make storage solution for your vinyl record collection. All it takes are some carefully measures and connected wooden slats to make a secure home for your vinyls that also leaves all sides open so you can still see the album covers and spines with ease.
7. Storage Box On Wheels
You can either use a wooden box you already have or use some plywood to create your own, Then, attach some wheels on the bottom and enjoy a vinyl storage box on wheels that can be pushed around the room. You might not want it to be mobile, but if you want a different look to your vinyl storage option, this option offers an easy way to relax on the floor while going through your vinyls and listening to one at the same time.
Victrola Vintage Vinyl Record Storage and Carrying Case
Fits All Standard Records – 33 1/3, 45 and 78 RPM
Holds 30 Albums
Perfect for Your Treasured Record Collection
Gray, 1SFA (VSC-20-GRY)
8. Standalone Shelf
For this, all you need is a large sheet of plywood and the right measurements. It's a simple shelf and when made with just enough space to fit vinyl records comfortably, you can fit a lot of them in it. Plus, since it's not mounted or screwed into the wall, you can put the shelf and move the shelf anywhere.
Another alternative is to use an old bookshelf as the base for your record storage. All you need is to cut the old bookshelf in half and make it a little taller. Make sure that the length of the shelf is tall enough so that it can hold most of your records comfortably. The height of the shelf should be around 18 inches or taller. You can find more information about this on the internet, for example following some IKEA hacks people post online.
Some people prefer to keep their vinyl collections store safely in boxes. There is always the off chance that a shelf or storage option could topple over, leaving your collection is a scattered mess on the floor. But in some cases, what fun is having this collection if you can't keep it out for the world to see and admire? Plus, with these DIY vinyl storage solutions, you can also have easy access to your vinyl records to listen to as you see fit.
(Visited 4,542 times, 1 visits today)