Left-handed individuals have been found to be more artistic and creative than right-handed individuals. They are good at exploring creative solutions for a problem. Furthermore, studies show that people who are left-handed tend to be attracted more to careers in the information technology industries, sports, music, and arts.
Left-handed people make up just about 10% of the world population, but there are some most famous people in that group.
How many famous left-handed individuals do you know? Check out our list of famous people you didn't know were southpaws.
Albert Einstein
Albert Einstein was a German physicist and mathematician who created the theory of relativity. In 1921, he bagged the Nobel Prize for his work on the photoelectric effect. In addition to this, Einstein is best known for his famous equation, E=mc2. And he was a lefty.
Oprah Winfrey
Also called the Queen of All Media, Oprah Winfrey is an American philanthropist, author, producer, and talk show host. She is renowned for her talk show, The Oprah Winfrey Show, which ran nationally for 25 seasons from the year 1986 to 2011. Back in 2013, former US President Barack Obama awarded Winfrey America's greatest civilian honor, the Presidential Medal of Freedom. The talented woman is left-handed too.
Bill Gates
Bill Gates is an American philanthropist, software developer, and entrepreneur. He is the co-founder of the largest software business, Microsoft Corporation. And he is a member of the left-handed club.
Gates and his business partner Paul Allen built Microsoft through aggressive business tactics, powerful business strategy, and technological innovation. Gates, along with his wife Melinda Gates, launched a private foundation called the Bill and Melinda Gates Foundation in 2000. The organization works to help individuals to lead productive and healthy lives.
Neil Armstrong
Neil Armstrong was an American engineer, astronaut, university professor, and naval aviator. What's more, he was the first man to walk on the surface of the moon. Armstrong got his pilot's license when he was only 16 years old – before he got a driver's license.
Marie Curie
Marie Curie was a French physicist and chemist who is known for her work on radioactivity. In 1898, Marie Curie and her husband Pierre Curie discovered the radioactive elements polonium and radium. She is also known for her contribution to finding cancer treatments.
This is not all. Curie got two Nobel Prizes for chemistry and physics. The atomic scientist was left-handed too.
Lady Gaga
Also called the Queen of Pop, Lady Gaga is an American actress, businesswoman, and singer. She is known for her visual experimentation and novel style. At present, Gaga holds 12 Guinness World Records. And the singer is frequently caught signing autographs with her left hand.
Tom Cruise
Tom Cruise is an American producer and actor who has got many awards for his work, including three Golden Globe Awards. He is also left-handed. And he is well-known for his versatility and good looks. Cruise started his acting career in 1980 and made his breakthrough with major roles in movies like Top Gun and Risky Business. As of 2020, he has a net worth of $570 million and is one of the world's highest-paid actors.
Keanu Reeves
Keanu Reeves is a Canadian actor who had his breakthrough role in Bill & Ted's Excellent Adventure, a science fiction comedy movie. Apart from this, this lefty garnered praise for playing a hustler in the movie My Own Private Idaho. What's more, he established himself as an action hero with major roles in movies like Speed and Point Break.
The performance of Reeves in the horror movie The Devil's Advocate was also highly appreciated.
Julius Caesar
Julius Caesar was a Roman statesman who played a very important role in building the Roman Empire. He was also an accomplished historian and author. Caesar was left-handed. However, it was he who ordered his Roman subjects to shake hands with their right hand.
Sylvester Stallone
Sylvester Stallone is an American actor, producer, and director. He is best known for creating and starring in the Rambo and Rocky film series that made him a superstar in the action genre. And he is left-handed in real life.
Henry Ford
Henry Ford was an American business tycoon and industrialist. He started the Ford Motor Company together with other investors in 1903. And in 1908, Ford introduced the Model T automobile that revolutionized American transportation and industry. As the owner of the automobile company, he became one of the world's wealthiest people. He is another example of a famous left-hander who changed our lives with efficient processes and systems.
Alexander the Great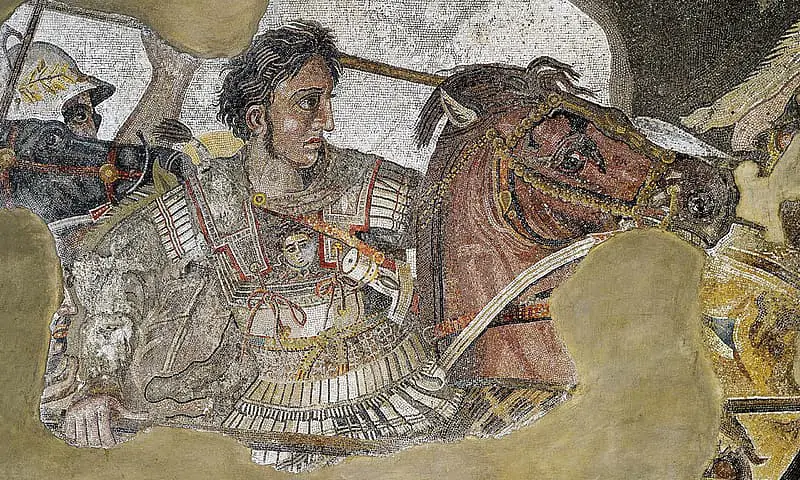 Alexander the Great was the ruler of Persia and Macedonia. He built the biggest empire the ancient world had ever seen. As a matter of fact, he is one of the greatest military minds in history.
Leonardo Da Vinci
Leonardo da Vinci was an Italian inventor, architect, sculptor, and painter. He had an excellent intellect and a curious mind. Additionally, Vinci is widely regarded as one of the greatest painters of all time. His most famous painting is The Mona Lisa, which is kept in a museum in Paris. Over the centuries, Vinci's paintings and drawings have influenced several engineers and artists. While Vinci was left-handed, he was equally skilled at painting and writing with his right hand.
Martina Navratilova
Martina Navratilova is an American former tennis player and coach. She is a natural left-hander. She is regarded as one of the best female tennis players in the world. Navratilova made her mark in doubles as well as singles play throughout the world. She was selected as the greatest female tennis player for the years 1975 through 2005 by Tennis magazine in 2005.
Jean-Paul Gaultier
Jean-Paul Gaultier is a French fashion designer who is known for his unconventional design with motifs including tin cans and corsets. In 1990, the lefty designer collaborated with the pop singer and actress Madonna to design her infamous conical bras. In 2012, he became the creative director of Diet Coke.
Aristotle
Aristotle was a Greek scientist and philosopher who is still regarded as one of the greatest thinkers in psychology and politics. Aristotle's writings cover topics such as economics, poetry, metaphysics, zoology, and botany, to name a few. Aristotle was reportedly left-handed.
Mark Zuckerberg

Mark Zuckerberg is an American entrepreneur and philanthropist. He is the co-founder of the social media platform Facebook and serves as its shareholder, CEO, and chairman. Other than that, the left-hander CEO is known for co-founding a research project Breakthrough Starshot.
Napoleon Bonaparte
Napoleon Bonaparte was a French military leader and politician who led many successful campaigns during the French Revolutionary Wars. He is regarded as one of the greatest military commanders in history, and his campaigns and wars are studied at military schools throughout the world. Bonaparte was left-handed and he insisted on having his troops travel on the right side.
Charlie Chaplin
Charlie Chaplin was a performer, director, and actor who led an extremely interesting and colorful life. He is regarded as one of the most prominent figures in Hollywood. Chaplin's most notable on-screen character was The Little Tramp. The Tramp was characterized by a derby hat, a tight jacket, baggy pants, and big shoes. Also, The Tramp is the title of a silent movie that Chaplin directed and penned in 1915. And Chaplin was also left-handed.
Steve Jobs
Steve Jobs was left-handed. He was an American entrepreneur, investor, and industrial designer. He was the CEO and co-founder of the technology company Apple. The company develops and designs computer software and consumer electronics.
Celine Dion
Celine Dion is a Canadian singer who is best known for her skilled and powerful vocals. The left-handed singer has sold over 220 million albums throughout the world. While Dion's recordings are primarily in English and French, she also sings in Japanese, German, Italian, and Spanish.
Angelina Jolie
Angelina Jolie is an American filmmaker and actress who has received many accolades for her successful career. As a matter of fact, Joli has been named the highest-paid actress in Hollywood many times. She uses her left hand to sign autographs. Besides, she is well-known for her humanitarian work. Jolie has been involved in conservation and has supported refugees.
The Best Online Shopping Websites of 2022 🎁
Discover new emerging brands + browse the largest retailers with the best online shopping experiences.