CommonCentsMom.com is advertiser-supported: we may earn compensation from the products and offers mentioned in this article. However, any expressed opinions are our own and aren't influenced by compensation. The contents of the CommonCentsMom.com website, such as text, graphics, images, and other material contained on this site ("Content") are for informational purposes only. The Content is not intended to be a substitute for professional financial or legal advice. Always seek the advice of your Financial Advisor, CPA and Lawyer with any questions you may have regarding your situation. Never disregard professional advice or delay in seeking it because of something you have read on this website!
Left-handed individuals have been found to be more artistic and creative than right-handed individuals. They are good at exploring creative solutions for a problem. Furthermore, studies show that people who are left-handed tend to be attracted more to careers in the information technology industries, sports, music, and arts.
Left-handed people make up just about 10% of the world population, but there are some most famous people in that group.
How many famous left-handed individuals do you know? Check out our list of famous people you didn't know were southpaws.
Albert Einstein
Albert Einstein was a German physicist and mathematician who created the theory of relativity. In 1921, he bagged the Nobel Prize for his work on the photoelectric effect. In addition to this, Einstein is best known for his famous equation, E=mc2. And he was a lefty.
Oprah Winfrey
Also called the Queen of All Media, Oprah Winfrey is an American philanthropist, author, producer, and talk show host. She is renowned for her talk show, The Oprah Winfrey Show, which ran nationally for 25 seasons from the year 1986 to 2011. Back in 2013, former US President Barack Obama awarded Winfrey America's greatest civilian honor, the Presidential Medal of Freedom. The talented woman is left-handed too.
Bill Gates
Bill Gates is an American philanthropist, software developer, and entrepreneur. He is the co-founder of the largest software business, Microsoft Corporation. And he is a member of the left-handed club.
Gates and his business partner Paul Allen built Microsoft through aggressive business tactics, powerful business strategy, and technological innovation. Gates, along with his wife Melinda Gates, launched a private foundation called the Bill and Melinda Gates Foundation in 2000. The organization works to help individuals to lead productive and healthy lives.
Neil Armstrong
Neil Armstrong was an American engineer, astronaut, university professor, and naval aviator. What's more, he was the first man to walk on the surface of the moon. Armstrong got his pilot's license when he was only 16 years old – before he got a driver's license.
Marie Curie
Marie Curie was a French physicist and chemist who is known for her work on radioactivity. In 1898, Marie Curie and her husband Pierre Curie discovered the radioactive elements polonium and radium. She is also known for her contribution to finding cancer treatments.
This is not all. Curie got two Nobel Prizes for chemistry and physics. The atomic scientist was left-handed too.
Lady Gaga
Also called the Queen of Pop, Lady Gaga is an American actress, businesswoman, and singer. She is known for her visual experimentation and novel style. At present, Gaga holds 12 Guinness World Records. And the singer is frequently caught signing autographs with her left hand.
Tom Cruise
Tom Cruise is an American producer and actor who has got many awards for his work, including three Golden Globe Awards. He is also left-handed. And he is well-known for his versatility and good looks. Cruise started his acting career in 1980 and made his breakthrough with major roles in movies like Top Gun and Risky Business. As of 2020, he has a net worth of $570 million and is one of the world's highest-paid actors.
Keanu Reeves
Keanu Reeves is a Canadian actor who had his breakthrough role in Bill & Ted's Excellent Adventure, a science fiction comedy movie. Apart from this, this lefty garnered praise for playing a hustler in the movie My Own Private Idaho. What's more, he established himself as an action hero with major roles in movies like Speed and Point Break.
The performance of Reeves in the horror movie The Devil's Advocate was also highly appreciated.
Julius Caesar
Julius Caesar was a Roman statesman who played a very important role in building the Roman Empire. He was also an accomplished historian and author. Caesar was left-handed. However, it was he who ordered his Roman subjects to shake hands with their right hand.
Sylvester Stallone
Sylvester Stallone is an American actor, producer, and director. He is best known for creating and starring in the Rambo and Rocky film series that made him a superstar in the action genre. And he is left-handed in real life.
Henry Ford
Henry Ford was an American business tycoon and industrialist. He started the Ford Motor Company together with other investors in 1903. And in 1908, Ford introduced the Model T automobile that revolutionized American transportation and industry. As the owner of the automobile company, he became one of the world's wealthiest people. He is another example of a famous left-hander who changed our lives with efficient processes and systems.
Alexander the Great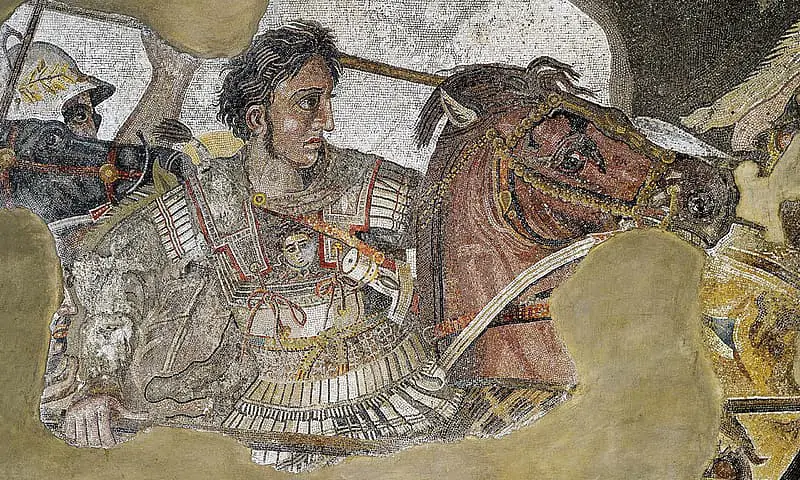 Alexander the Great was the ruler of Persia and Macedonia. He built the biggest empire the ancient world had ever seen. As a matter of fact, he is one of the greatest military minds in history.
Leonardo Da Vinci
Leonardo da Vinci was an Italian inventor, architect, sculptor, and painter. He had an excellent intellect and a curious mind. Additionally, Vinci is widely regarded as one of the greatest painters of all time. His most famous painting is The Mona Lisa, which is kept in a museum in Paris. Over the centuries, Vinci's paintings and drawings have influenced several engineers and artists. While Vinci was left-handed, he was equally skilled at painting and writing with his right hand.
Martina Navratilova
Martina Navratilova is an American former tennis player and coach. She is a natural left-hander. She is regarded as one of the best female tennis players in the world. Navratilova made her mark in doubles as well as singles play throughout the world. She was selected as the greatest female tennis player for the years 1975 through 2005 by Tennis magazine in 2005.
Jean-Paul Gaultier
Jean-Paul Gaultier is a French fashion designer who is known for his unconventional design with motifs including tin cans and corsets. In 1990, the lefty designer collaborated with the pop singer and actress Madonna to design her infamous conical bras. In 2012, he became the creative director of Diet Coke.
Aristotle
Aristotle was a Greek scientist and philosopher who is still regarded as one of the greatest thinkers in psychology and politics. Aristotle's writings cover topics such as economics, poetry, metaphysics, zoology, and botany, to name a few. Aristotle was reportedly left-handed.
Mark Zuckerberg
Mark Zuckerberg is an American entrepreneur and philanthropist. He is the co-founder of the social media platform Facebook and serves as its shareholder, CEO, and chairman. Other than that, the left-hander CEO is known for co-founding a research project Breakthrough Starshot.
Napoleon Bonaparte
Napoleon Bonaparte was a French military leader and politician who led many successful campaigns during the French Revolutionary Wars. He is regarded as one of the greatest military commanders in history, and his campaigns and wars are studied at military schools throughout the world. Bonaparte was left-handed and he insisted on having his troops travel on the right side.
Charlie Chaplin
Charlie Chaplin was a performer, director, and actor who led an extremely interesting and colorful life. He is regarded as one of the most prominent figures in Hollywood. Chaplin's most notable on-screen character was The Little Tramp. The Tramp was characterized by a derby hat, a tight jacket, baggy pants, and big shoes. Also, The Tramp is the title of a silent movie that Chaplin directed and penned in 1915. And Chaplin was also left-handed.
Steve Jobs
Steve Jobs was left-handed. He was an American entrepreneur, investor, and industrial designer. He was the CEO and co-founder of the technology company Apple. The company develops and designs computer software and consumer electronics.
Celine Dion
Celine Dion is a Canadian singer who is best known for her skilled and powerful vocals. The left-handed singer has sold over 220 million albums throughout the world. While Dion's recordings are primarily in English and French, she also sings in Japanese, German, Italian, and Spanish.
Angelina Jolie
Angelina Jolie is an American filmmaker and actress who has received many accolades for her successful career. As a matter of fact, Joli has been named the highest-paid actress in Hollywood many times. She uses her left hand to sign autographs. Besides, she is well-known for her humanitarian work. Jolie has been involved in conservation and has supported refugees.
Kurt Cobain
Kurt Cobain was an American singer, songwriter, and musician. He is known for being the founder and lead singer of the grunge band Nirvana. He passed away in 1994 at the age of 27. And he was a lefty.
Even though he was left-handed, he did learn to play the guitar right-handed. This guitarist also was taught to learn how to write right-handed throughout his life. At its core, Kurt Cobain was capable of doing both.
David Bowie
Apparently, there's a couple of famous musicians who were left-handed. Alongside Kurt Cobain is David Bowie himself, who is an English singer, songwriter, actor, and record producer. He is also a member of the left-handed club. Bowie is known for his flamboyant style and theatrical persona. He was born in 1947 and passed away in 2016 at the age of 69.
Jimi Hendrix
Another one of the most famous left-handed people out there is rock star Jimi Hendrix. He was an American rock guitarist, singer, and songwriter. Hendrix was popular for his skills with the electric guitar, on top of having amazing vocals. Jimi Hendrix died in 1970 at the age of 27.
Paul McCartney
Alongside David Bowie and the other musicians above, Paul McCartney is another famous musician who was left-handed. The English singer-songwriter, guitarist, and pianist was born in 1942. He is most famous for being the bassist and co-vocalist of the iconic band the Beatles. Afterwards, though, he continues to have a flourishing career even to know. One of his most recent collaborations was with Rihanna and Kanye West in the song "Four Five Seconds."
Ringo Starr
We still have more musicians to go! Adding to our list of famous left-handed people is Ringo Starr. He is an English drummer, singer, and songwriter. The talented musician is known for being the drummer of the legendary band the Beatles, alongside Paul McCartney.
Ringo Starr was a member of the band from 1960 to 1970. Nowadays, he is an accomplished producer, recording artist, and film composer.
Julia Roberts
Moving on from musicians, we have many Hollywood starlets who are celebrating Left-Handers Day along with us. One such starlet is Julia Roberts, known for starring in movies such as Pretty Woman (1990), Notting Hill (1999), and Eat Pray Love (2010). Even today, she is still incredibly active in front of the silver screen, known as one of the most successful Hollywood actresses to date.
Prince William
Who would've considered that someone from the British royal family would be left-handed? Well, that's what we have with Prince William. The prince is the younger son of Charles, Prince of Wales and Diana, Princess of Wales. He is a British prince who is known for being the Duke of Cambridge and Earl of Strathearn. He was born in 1982 and married to Kate Middleton in 2011.
Harry Truman
We've seen actors, actresses, and musicians of all kind who are confirmed to be lefthanders. But what about famous politicians? Alongside Barack Obama, there's a surprising number of US former presidents who are reported to be left-handers. One such person is Harry S. Truman, who was the 33rd president of the United States. He was born in 1884 and later passed away in 1972, almost 20 years after the end of his presidential term.
George H. W. Bush
Following closely from Harry Truman is George H. W. Bush himself, who is also known to be the former president of the United States. Bush was born in 1926 and served as the 43rd president of the United States from 2001 to 2009.
Bill Clinton
More left-handed former presidents! Bill Clinton joins the club as yet another US president known for being a lefty. Clinton was the 42nd president of the United States and held his term from 1993 to 2001 alongside Vice President Al Gore. He is currently married to Hillary Clinton, and has been since 1975.
Ronald Reagan
Alongside the other former presidents is also Ronald Reagan, who was the 40th president of the United States. He was a Republican who served from 1981 to 1989, alongside former vice president George H. W. Bush.
Ruth Bader Ginsburg
Ruth Bader Ginsburg is no president, but she is arguably just as iconic. She was an associate justice at the US Supreme Court, and served in that position since 1993 up until the year of her death in 2020. She is a beloved icon to many, and serves as a huge inspiration to ambitious women everywhere.
Nicole Kidman
Going back to Hollywood, we have Nicole Kidman as another one of the most famous left-handed people out there. The Australian actress is a multiple award-winning and Academy Award-nominated actress. She is best known for her work in movies such as Moulin Rouge! (2001), Rabbit Hole (2010), and The Paperboy (2012).
Brad Pitt
We mentioned before that Angelina Jolie is left-handed. How interesting it is that her ex-husband, Brad Pitt, is one as well! Brad Pitt is best known for cult classics including Fight Club (1999), Mr. and Mrs. Smith (2005) in which he starred opposite silver screen sweetheart Angelina Jolie, as well as Seven (1995). He is known as one of the most accomplished Hollywood actors of our time, and is lauded as being the handsomest man in the world by many.
Judy Garland
Another classic Hollywood actress is Judy Garland. She was an American singer, dancer, and actress. Her movie career lasted from 1935 to 1969, with a break in the middle of her career during the late 1940s and early 1950s. She is best known for her roles in classic movies such as The Wizard of Oz (1939), and Meet Me in St. Louis (1944).
Sarah Jessica Parker
Are you a fan of the Sex and the City series? If so, you must be familiar with the name of Sarah Jessica Parker. Well, guess what? She is also left-handed! As a famous lefty, Sarah Jessica Parker is a household name, especially around Hollywood. She has been awarded many accolades throughout her career, including six Golden Globe Awards and two Primetime Emmys.
Whoopi Goldberg
We're getting to the big names now! Whoopi Goldberg is an American actress, comedian, and television host. She is best known for her work in movies such as The Color Purple (1985), Ghost (1990), and Sister Act (1992). She is also a singer, and won an Academy Award for Best Supporting Actress in Ghost.
Tim Allen
If you're a lover of Hollywood comedies, you've probably heard of Tim Allen. He's a well-known actor and comedian, and surprisingly, he is also a left-handed person. Some of his most famous works so far include The Santa Clause (1994), Home Improvement (1991-1999), and Wild Hogs (2007).
Jerry Seinfeld
You can't talk about famous left-handed people without mentioning Jerry Seinfeld. The comedian is one of the most successful stand-up comedians of all time. He is best known for his television series Seinfeld, which aired from 1989 to 1998.
John McEnroe
In terms of competitive sports, there's also some famous left-handed athletes out there. John McEnroe is one of them. He is an American tennis player and former World No. 1 ranked player in both singles and doubles. He is most famous for his rivalry with fellow tennis player Björn Borg.
Babe Ruth
Apparently there's more than one spot for a famous sports figure who is left handed. Closely following after John McEnroe is Babe Ruth, who was a famous American baseball player who was a part of the Major League Baseball (MLB) team. He was born in 1985 and passed in 1948 after a successful career.
Matt Groening
If you know of the animated show The Simpsons, you should know that its creator, Matt Groening, was actually a lefthanded person. In fact, to pay tribute to his left-handedness, he included many characters in the series who were the same way. These characters included Ned Flanders, Marge Simpson, and Moe.
Michelangelo
Michelangelo is a legendary Italian artist, painter, sculptor, and more who was best known to have made David, the Sistine Chapel ceiling, and Bacchus. Alongside Raphael, he is one of the classic iconic artists of the past who was known to be left-handed.
Ty Cobb
Now, for something completely different. We have baseball player Ty Cobb, who was a center fielder for the Detroit Tigers from 1905 to 1926. He is most famous for being one of the greatest players in baseball history. He was an American professional baseball player who played 17 seasons in Major League Baseball (MLB) with the Detroit Tigers, Boston Red Sox, and Philadelphia Athletics.
Barry Bonds
And of course, baseball fans can't forget about Barry Bonds. The outfielder played for the San Francisco Giants from 1993 to 2007. He is a member of the all-time home run leaders list and holds many hitting records, such as the most home runs throughout his career.
Helen Keller
Finally, we have Helen Keller, who is a notable figure in history in general. She was a renowned American author, but she was also a staunch activist and advocate for the disabled. Aside from being left-handed, she is also famous for being both blind and deaf after a experiencing sickness before she turned 20. Still, she's achieved many great things throughout her life before passing in 1968.
(Visited 2,985 times, 1 visits today)