CommonCentsMom.com is advertiser-supported: we may earn compensation from the products and offers mentioned in this article. However, any expressed opinions are our own and aren't influenced by compensation. The contents of the CommonCentsMom.com website, such as text, graphics, images, and other material contained on this site ("Content") are for informational purposes only. The Content is not intended to be a substitute for professional financial or legal advice. Always seek the advice of your Financial Advisor, CPA and Lawyer with any questions you may have regarding your situation. Never disregard professional advice or delay in seeking it because of something you have read on this website!
The best airports in the world add more than just a touch of luxury to your travel experience. They also have the friendlist staff, the most efficient systems for ticketing and baggage, free and fast Wi-Fi connection, and spacious waiting areas. The best airports also are home to the best airport lounges in the world, with private baby care rooms, duty-free shops, and a plethora of food options.
While we love all airports, there are some airports around the world that really stand out above the rest. Here's a look at the 25 best airports in the world.
Situated on the island of Chek Lap Kok, Hong Kong International Airport is the major airport in Hong Kong. It is one of the world's busiest airports, serving 75 million passengers annually and hosting several airlines.
It has over a dozen airport lounges available to people on several airlines. The airport operates 24 hours a day and is the primary hub airport for Air Hong Kong, Hong Kong Express Airways, Hong Kong Airlines, and Cathay Pacific. The Hong Kong airport features many standard airport shops including duty-free areas, bookshops, and convenience stores.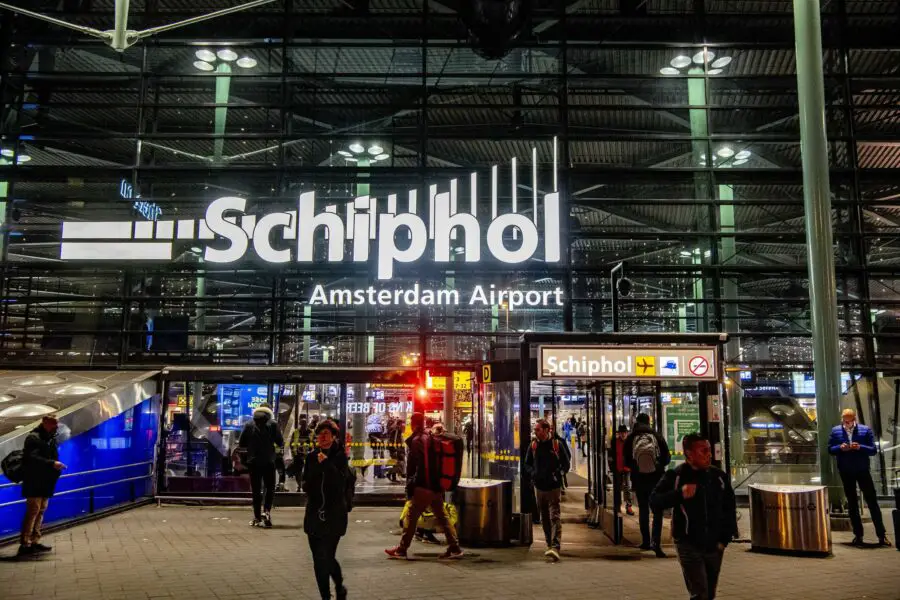 This airport has been awarded 200 global and European airport awards from passenger and airline organizations. With 350 destinations throughout the world and 71.1 million passengers annually, Schiphol Airport is one of Europe's biggest airports. In fact, it is the most important airport in the Netherlands.
The airport is the base for many intercontinental airlines including the airlines Martinir and Transavia and the Dutch flag carrier, KLM.
Over 100 airlines make connections through this airport, carrying people to every continent. You will find a museum, many restaurants, spas, and a casino in the buildings of the airport.
The airline rating company Skytrax named Singapore Changi Airport the best airport in the world in 2020. The world-renowned airport is the home base of BOC Aviation, Jetstar Asia Airways, Singapore Airlines Cargo, and Singapore Airlines. It has the ability to handle a total of 70 million travelers every year.
Among the amenities, the Singapore airport offers visitors is a sunflower garden, orchid garden, butterfly garden, fish pond, and rooftop swimming pool. And there are 24-hour free movie theatres and cinemas.
This is not all. An amazing new building opened at the Singapore airport called Jewel Changi Airport back in 2019. The building houses an indoor forest with a waterfall, a hotel, many restaurants, a giant trampoline, and a mirror maze.
The airport boasts international and domestic terminals. In 2020, Haneda was named the cleanest airport in the world, and the best domestic airport in the world. It receives more than 70 million passengers every year.
The airport has many lounges where you can relax and stretch between flights. What's so good about these lounges is that all passengers can take advantage of them, not just Business or First Class passengers. And some lounges are even open 24-hours.
Under leisure and retail, you can expect a range of boutiques, handmade art shops, bookstores, and local clothing brands. The Discovery Museum, which is located in Terminal 2, is a combination of the history of Japan and art exhibits. There is also free WiFi if you want to browse the web to pass time.
It is Canada's busiest and biggest airport and is the main hub for Air Canada. The airport has the capacity to handle more than 47 million visitors every year. Apart from Air Canada, it also serves as a base of operations for Sunwing Airlines and Air Transat and as a hub for cargo airline FedEx Express and WestJet. There is a decent selection of bars, cafes, and restaurants at the airport. You'll find popular chains like Subway, Starbucks, and Tim Hortons, and kiosks slinging baked goods and hamburgers. Last but not least, the airport hosts a collection of works from artists throughout the world.
Munich airport receives more than 46.3 million passengers annually. It is the second busiest airport in Germany. The airport has many passport and security control lanes, clean concourses, and sufficient staff to keep the queues moving. Most importantly, flights are also on time. In 2020, Munich was voted the Best Airport in Europe.
When it comes to your convenience and comfort, the airport goes above and beyond. It offers a myriad of unique amenities, including a visitors terrace, showers, mini-golf, a casino, and airport tours. Other than that, the airport offers unlimited free WiFi and has restaurants that are open 24 hours.
Interestingly, the airport has a brewery called Airbrau inside its premises. It features Europe's biggest covered beer garden, where you can enjoy pork knuckles and authentic Bavarian beers.
This airport is the international airport in Doha, which is the capital of Qatar. In 2020, it was voted the Best Airport in the Middle East. The airport has eateries featuring Western, international, and Middle Eastern cuisine.
Luckily, the airport has two lounges that allow access for any passenger, no matter the flight class or airline flown. It has the capacity to handle 30-40 million visitors every year.
Browse the web, update your social media account, or stay connected to near and dear ones courtesy of the free WiFi of the airport. If you don't have your phone, the airport offers free Mac computers for browsing the web.
Kempegowda International Airport is an international airport that serves Bengaluru or Bangalore, the capital of the Indian state Karnataka. It is among India's busiest airports with over 30 million travelers annually.
Travelers and visitors are most impressed with the airport's friendly staff, stunning garden, and infrastructure. In 2020, the airport won Skytrax Award for Best Regional Airport in Central Asia and India.
Kansai International Airport was opened in 1994 and has since become a significant international hub for Japan, providing one of the biggest networks for international and domestic routes with 24-hour operations. In 2020, Kansai was named Best Airport for Baggage Delivery in the world and Best Airport Staff in the world. In addition to this, it was also named Best Airport Staff in Asia in 2020.
The airport receives approximately 30 million visitors yearly. The services and amenities of the Kansai airport include internet kiosks, free WiFi internet, lounges, restaurants, meeting rooms, currency exchanges, and retail stores.
The airport is a hub for Peach, Japan Airlines, and Nippon Airways. You can fly non-stop on scheduled flights to places in North America, Europe, Oceania, and Asia.
Not only is it immensely busy for passenger traffic, but the Dubai International Airport is also a favorite of globetrotters thanks to its huge food and beverage offerings, slick layout, and facilities. The airport has the fastest wifi in the world called Wow-fi, which offers internet connection speeds of up to 100Mbps. What's more, you can stream your beloved television shows within the Dubai airport without any cost thanks to a partnership between Dubai Airports and Icflix (online streaming service). The airport offers a Zen garden in Terminal 3. It is an area that contains benches to sit on, lush trees, and a fish pond. The airport handled 25.9 million visitors back in 2020.
Athens International Airport is the major airport serving Athens, Greece. It is the biggest airport among dozens of airports in Greece and has 25 million travelers every year.
What's great about this airport is that it is highly organized with an efficient and smooth security check. The airport has a satellite terminal and the main terminal. It features a shopping center loaded with boutiques and stores of all types.
Portland International Airport is the biggest airport in Oregon, USA. It has two passenger terminals and manages 20 million visitors each year.
The airport has connections and direct flights to most major airports throughout the United States. Additionally, it has non-stop international flights to Mexico, Japan, Germany, and Canada. And it is a hub for Horizon Air and Alaska Airlines.
Unlike ordinary airports, all the scrumptious food at the airport is sold at street prices. There is a nice selection of restaurants, bars, and cafes at the airport in departures as well as the public areas. Among the options are American-style diners, Asian cuisine, ice cream parlors, and international fast-food chains.
It is South Korea's biggest airport and one of the world's busiest airports. In 2020, it was named the winner of Best Transit Airport in the world. As a matter of fact, in 2020, terminal 2 at the airport was named Best Airport Terminal in the world.
Fast-food outlets, ice cream parlors, bars, cafes, and restaurants abound at the airport. It has a good selection of duty-free shops that sell a variety of goods, including perfumes, electronics, and fashion accessories.
Other facilities at the airport are kid's playrooms, movie theater, laundry, and a medical center. Apart from this, this airport has many gardens in which to relax as well as a golf driving range, an ice skating rink, a museum, and a spa. The airport handled around 11.9 million travelers in 2020.
Cochin International Airport serves Kochi, a city in the Indian state of Kerala. The airport is the busiest airport in Kerala with 10 million visitors every year. Interestingly, it is eco-friendly and completely solar-powered. ATMs are present across the airport for you to have convenient and quick access to money. At the international and domestic departures area, you'll find many shops selling special Kerala items, handicrafts, traditional wear, and books.
Central Japan International Airport has a big domestic traffic percentage, with many regional routes operated to Asian cities. Detroit, Honolulu, Frankfurt, and Helsinki are longer-haul routes. In 2020, the airport was named the best airport in the world in the 10-20 million passengers category.
It has a bathhouse Fu no Yu where you can de-stress yourself by relaxing in comfortable temperatures. Fu no Yu is the first bath with a view made in a domestic Japanese airport. You can see as the airplanes land and take off from a close distance while enjoying the baths.
CoCo Ichibanya, the famous curry shop, is also located at the airport. What's so interesting about this shop is that it is the only place in Japan whose primary ingredients are vegetables.
This airport serves Indianapolis in Indiana state. And it is one of the busiest airports in America with almost 10 million travelers annually.
The airport has about two dozen restaurants and shops, with at least one convenience store and two restaurants providing 24-hour service. It offers free WiFi and some power outlets to re-charge your phones.
Tallinn Airport is the biggest airport in Estonia. It hosts international and domestic flights and manages around 3 million visitors annually. The security check is efficient and swift. The service level of the airport is among the best in Europe.
Amenities include free WiFi, a free gym, a library, massage chairs, and plenty of shops and eateries. However, it is important to note that no shops or restaurants are open 24 hours, therefore, you should plan ahead if you are staying the night.
 You can fly non-stop from this airport to about 60 places in Europe, the Caribbean, and North America. It is a global hub for DHL Aviation, Southern Air, Amazon Air, Kalitta Air, and ABX Air, managing various international and domestic cargo flights daily. Amenities at the airport include a children's play area, massage bars, a smoking lounge, a bank and currency exchange, retail shops, and restaurants.
Copenhagen airport is served by airlines such as Easy Jet, Air Cairo, Czech Airlines, Air Serbia, Australian Airlines, Thai Airways, Air Europa, and several other airlines with international and domestic flights all over the world. It offers a reasonable selection of services, eateries, and shops. The Copenhagen airport has WiFi and charging areas are available throughout the airport.
This airport is an international airport serving the Greater Tokyo Area of Japan and plays host to a large number of international travelers. It serves as the international hub for All Nippon Airways and Japan Airlines. In 2020, it was named the Best Airport Dining in the world. It is certified as a 4-Star Airport for security, food, shopping, cleanliness, immigration, and facilities.
The airport has more than 30 top-rated restaurants that serve Japanese delicacies. It also hosts various performances and events that give you a short look into Japanese culture. These include Koto performances, calligraphy workshops, and tea ceremonies, to name a few.
This airport has over 100 air carriers and is the best airport for international freight. Already known for giving people top-notch service, the airport offers a host of services, amenities, shops, and restaurants. It is a combination of attitudes, languages, and cultures, with flights landing and taking off all day long. The Miami airport offers a lot of grab-and-go spots, such as Pizza Hut, McDonald's, and Starbucks. What's more, you'll find airport staples such as tech shops, travel stores, and newsstands throughout.
The Bozeman Airport is the busiest airport in the greater Yellowstone area with more than one million travelers flying through Bozeman annually. It offers non-stop flights to 15 cities in America with connecting flights all over the world. The airport offers amenities, such as data ports, wireless internet access, a conference room, gift shops, a lounge, and an espresso counter.
Muscat International Airport serves Muscat, which is the capital of the Sultanate of Oman. It consists of two terminals, serving international as well as domestic flights to Africa, Asia, and Europe.
The beautiful airport offers a unique experience for visitors through its smart facilities, with a complete range of shops, 24-hour hospitality services, first-class and business lounges, and restaurants.
Zurich Airport is Switzerland's biggest international airport and the main hub of Swiss International Air Lines. The airport is busy but well-laid out and efficient. Swiss International Airlines has the most everyday flights in and out of the Zurich airport. However, many airlines serve the airport, including  EasyJet, KLM, British Airways, American, and Delta.
Visitors like this airport for its cleanliness, ease of use, and sleek design. While it is not too large, the Zurich airport is well-appointed with restaurants, shops, and amenities.
It has about 40 eateries which range from sit-down eateries and bars to cafes and kiosks. Enjoy a delicious meal at a Mediterranean restaurant or the Montreux Jazz Cafe if you've got the time.
This airport is one of the easiest airports to navigate. It is equipped with two buildings that serve as terminals, four runways, and one airfield. About 16 airlines fly in and out of this airport including AirFrance, Alaska, Boutique Air, and Delta. The airport offers international and national non-stop destinations. It has a variety of stores and restaurants from local names and national brands.
(Visited 1,262 times, 1 visits today)